Polish company Sinterit announced a new 3D printer by the technology of selective laser sintering of polymer powders (SLS). The Lisa X system features an increased usable volume and a tenfold increase in productivity compared to the previous version – Lisa Pro.
The new additive system is designed primarily for 3D printing with powdered polyamide-12 with a claimed speed of up to 14 mm / h vertically. It will take about thirty hours to process a full working volume of 130x170x330 mm.
"The third generation of our compact SLS 3D printers is designed to increase the speed of innovation. We remain focused on providing complete, end-to-end SLS 3D printing solutions to make additive manufacturing useful and meaningful. With Lisa X, the results will be even better because of the increased productivity and increased workload to meet the most frequent market demands," commented Sinterit CEO Maxime Polesello.
Lisa X will be the fourth system in Sinterit's lineup and the third in the relatively low-cost Lisa family of compact SLS 3D printers, following the original Lisa in 2015 and the improved Lisa Pro (originally Lisa 2), which came to market in 2018. The fourth system under the designation NILS 480, announced in September 2021, is already aimed at the industrial segment, but is also designed with an emphasis on affordability.
As an example of the capabilities of the equipment the company cites additive manufacturing of batches of electrical connectors: the operating capacity of the original Lisa is enough to produce 56 sets of 112 parts, and it takes 103 hours. The Lisa Pro does 112 sets of 224 parts in 205 hours, and the Lisa X will produce 270 sets of 540 individual parts in 28 hours.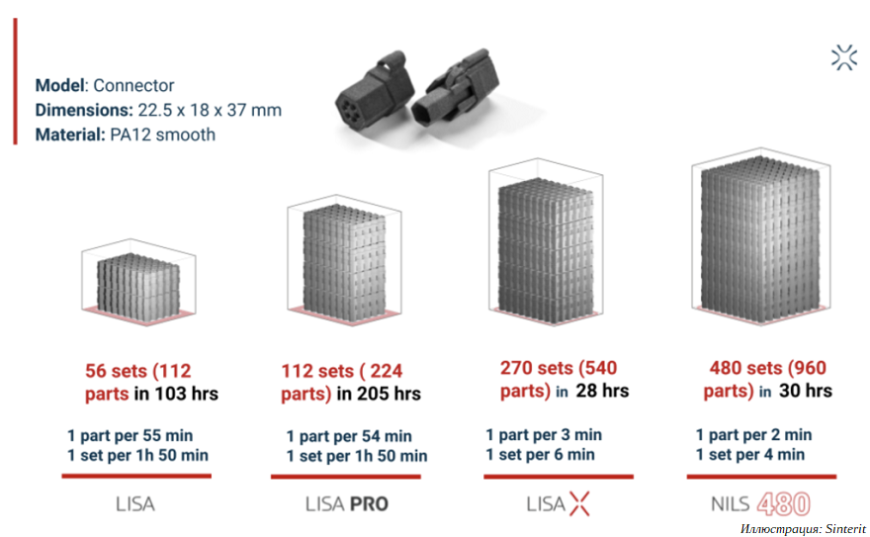 Another example is 3D-printing an engine model with dimensions of 138x123x74 mm. To accomplish this task, the Lisa takes 60 hours and 48 minutes, while the Lisa X manages to print two of these models in 21 hours and 30 minutes. Mentioned above-industrial 3D printer NILS 480 copes with four models in 20 hours and 42 minutes, or will print 480 sets of connectors in thirty hours. Despite the obvious advantage of the new systems in terms of performance, the company is not going to give up production on Lisa and Lisa Pro.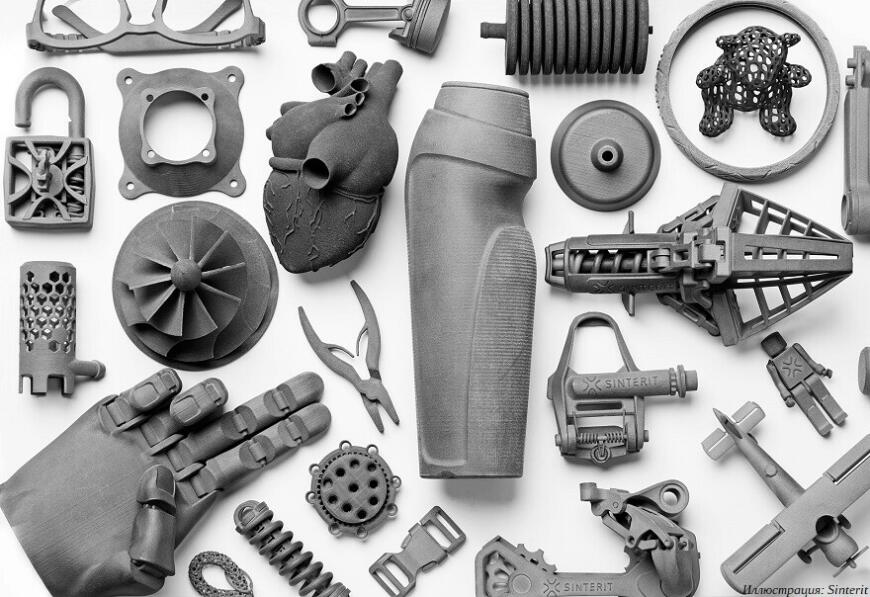 "All of our 3D printers continue to be produced because they occupy different niches. The Lisa, our first model, remains our most compact and affordable 3D printer. The Lisa Pro provides a wide range of consumables and settings, and the Lisa X stands out for its high performance and large usable volume," explains Sinterit's head of design Michal Grzymala-Moszczynski.
In this article, you can read more about other manufacturers of SLS 3D printers.